Located on 14 acres with a fishing pond, campsite, outdoor amphitheater and one-mile running path, Camp Raintee offers students memorable summertime experiences unmatched anywhere in Lawrence.
Camp activities include swim parties and cookouts (or campouts) each weekend, fishing and boating on the Raintree Pond, outdoor sports and cooperative games, daily dips in the Raintree pools and creative arts instruction.
Library time is scheduled each day so students can research a topic of interest or curl up in a comfy chair and read a good book.
Special camp events such as Bring-Your-Wheels Day, Iron Kids Triathlon, Camp Carnival, and Independence Day Parade are scheduled throughout the summer session.
Each summer we have a theme. Past themes have been Save the World, Cultures of the World, and the Circus is Coming! Check back later for what the theme will be for Camp Raintree 2022!
Campers may either bring either a sack lunch or eat Raintree lunch from our lunch buffet. Snacks are provided by Raintree throughout the day in addition to recipes made by the campers themselves.
Each summer children return to camp excited about reuniting with old friends and meeting new ones. Many campers begin attending Raintree when they are preschoolers, but others don't start until their elementary years. Both groups have something in common – the fun they share spending summers at Raintree. When we talk with students who have attended Raintree, we find summer camp is one of their fondest memories.
Camp Raintree is specifically designed for the elementary child. The youngest camper must have completed first grade, and the oldest camper must have completed no more than fifth-grade. Students who attended middle school are not candidates for camp.
Unfortunately, we are full! In May we will update our camp page with new information for this summer. Stay tuned!
Above is a short video highlighting some of the fun outdoor activities our campers took part in 2020.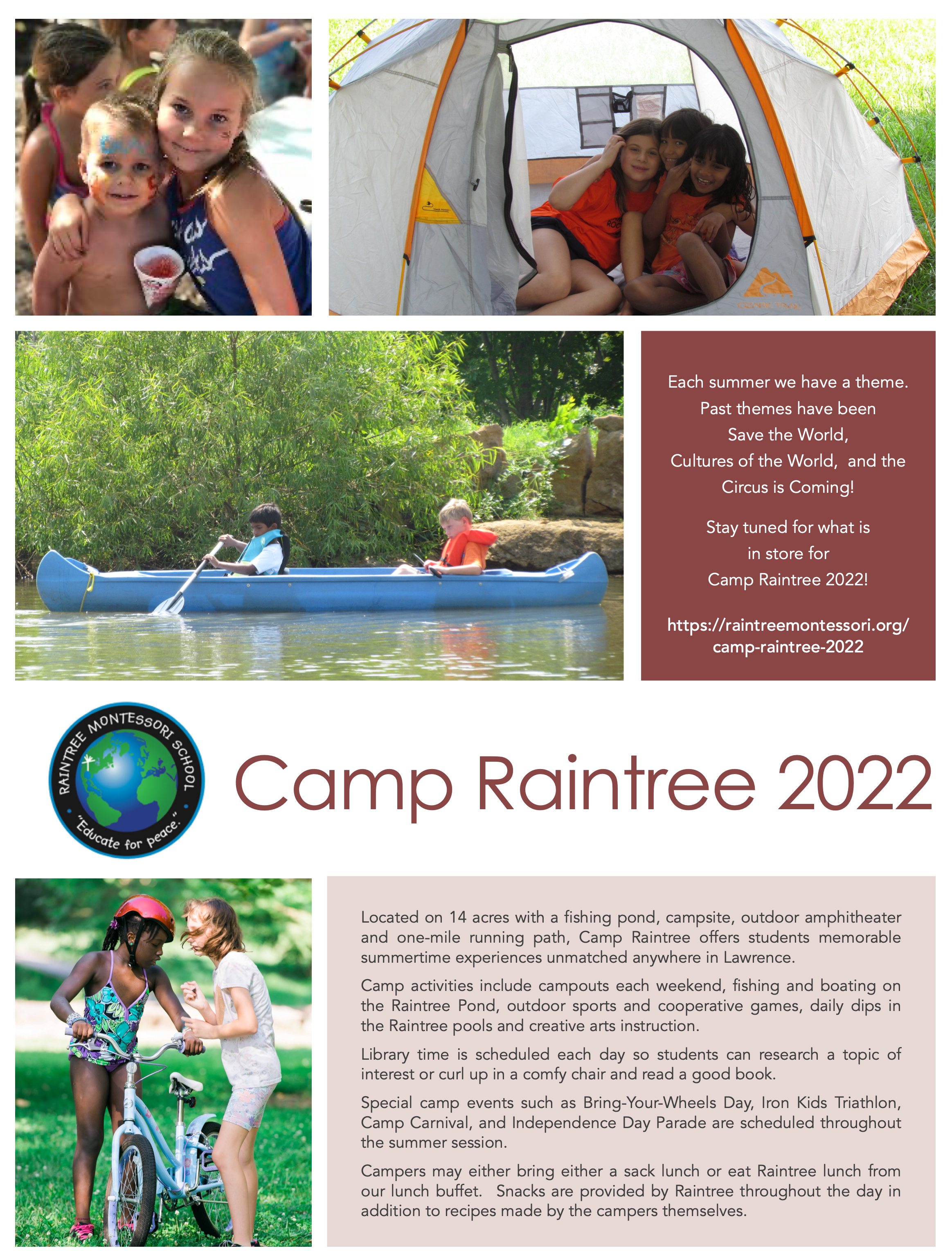 Click on the photo to see the Camp Raintree brochure.
Current Protocols with Regard to COVID: