Camp Talent Show • Friday, June 28 from 9:00 to approximately 11:00 • Raintree Outdoor Amphitheatre
Schedule: Black/White, Orange/Light Blue, Green/Yellow, Red/Blue, then Purple/Teal
Camp Raintree 2019's theme is SAVE THE WORLD! We will learn about water conservation, air quality, and animal ecology through the camp activities of
art, cooking, drama, games, and construction as well as through the special events and workshops that will take place this summer.
Interdependence • July 1-5
Re-purposing: Adventure Playground • July 8-12
Water Conservation / Awareness • July 15-19
Celebrate "Saving the World" Carnival • July 22-26
Spirit Week • July 29-31
---
All Campers: Please remember to bring sunscreen to your first day of camp and place it in the basket by the pool entrance – but no spray sunscreen. These bottles will go to the community sunscreen collection to be used outside and at the pool.
---
NOTE: CAMP RAINTREE IS A PEANUT-FREE/TREE NUT-FREE CAMP!
For the safety of our campers, do not send any food items containing peanuts or tree nuts to camp with your camper.
We are glad your camper will be joining us for another fun-filled summer at Raintree. Below is some information which will help explain our camp policies and procedures.

 

This letter is available in a paper copy both in our office and the copper mailbox north of the swimming pool.

 

We hope it covers the questions you have about the camp.

 

If not, below are the camp staff who can help you.
Welcome to Camp Raintree 2019!
Keith McReynolds is the Camp Administrator.  He is the tall white-haired guy with the dog who founded Raintree almost 40 years ago.  He and Puddle manage the camp by "walking around." Clay Kimmi is our Camp Director. Clay Kimmi is Raintree's Erdkinder (adolescent program) Occupations and Science teacher during the school year.  Kelli Koberlein is our Office Manager and answers questions about required forms and paperwork. Nikki Escalante is the person to contact if a camper will be absent for the day. Email her at attendance@raintreemontessori.org or call the "Attendance" line.  Sheila Shanker is our Accounts Manager who posts tuition payments and registration fees, and also registers campers. Our Camp Librarian is Anne Edwards who also administers medicine to campers. 
.
Staff members responsible for planning and implementing activities in specific camp rooms are referred to as camp instructors.   Staff who are responsible for a group of campers are called camp counselors.  The counselors navigate the schedule with their campers and also assist the instructors with the activities.  Except for their break during the day, the counselors spend the whole day with the campers.  The names of counselors with their groups and the names of the instructors will be posted outside their activity area.
Our campers are divided by age into five groups, and then subdivided into color groups.  Each color has a complementary color: Purple/Teal, Blue/Red, Yellow/Green, Light Blue/Orange, Black/White.  The Purple and Teal Groups are the oldest campers, the youngest are the Black/White groups.  The Camp Raintree experience is about meeting new people and building friendships.  Unless the camp directors decide to change a camper from one group to another, there are no changes to the configuration of camp groups.  The complementary color group is designed to broaden the number of new friendships that can be formed and to reconnect with old friends, too.   If your child's friend is not in his/her specific color group, if they are the same age, it is likely he/she will be in the complementary color group in which case they spend almost half the day together, swimming, playing outside and having lunch together. 
.
Camp Raintree opens at 7:30.

 

Please do not arrive earlier than 7:30.

 

Our staff is involved in setting up the camp and cannot supervise children at that time.

 

An Early Arrival Fee ($5

 

per 5 minutes) may be assessed if a child is brought consistently earlier than 7:30.
From 7:30-7:40 campers meet on the elementary playground. Some campers may help with camp chores before the schedule begins.  Others may simply want to play in the sandbox until the day's activities begin.
At  7:40 our schedule of activities begins with each group going to their first activity.
If your child is an all-day or afternoon camper, please remember camp closes at 5:30 P.M.

 

The same rate of $5/5minutes will be assessed if your child is picked up after 5:30 PM.
CAMP SCHEDULE PDF FOR THE SUMMER
The schedule below is an image of the pdf. Click on the image of the schedule below to access the entire summer schedule in a pdf.
Each week the first color pair moves down one time slot in the schedule and the rest of the color groups shift, too.   We post schedules outside the Lower Elementary Building and on the Ann E. Anderson building.  The schedule changes each week.
To ensure your camper gets the full camp experience and to provide a safe environment for all campers, please schedule appointments at the beginning of the day before bringing your child to camp or at the end of the day when you pick up your camper.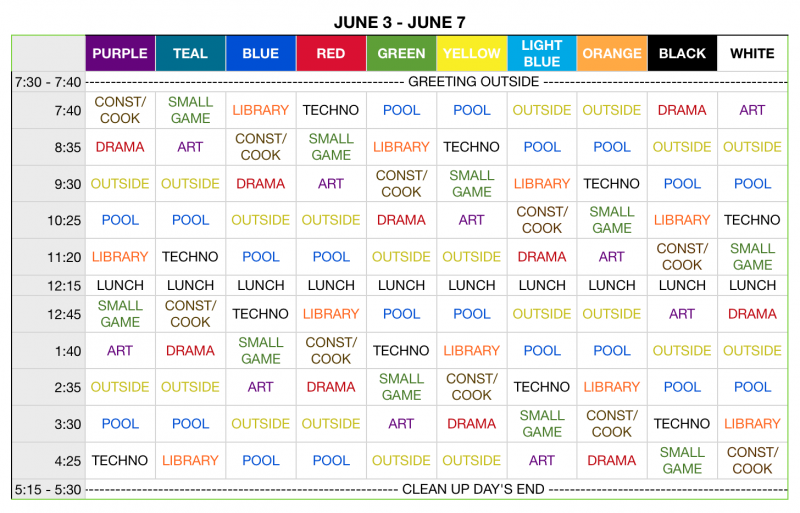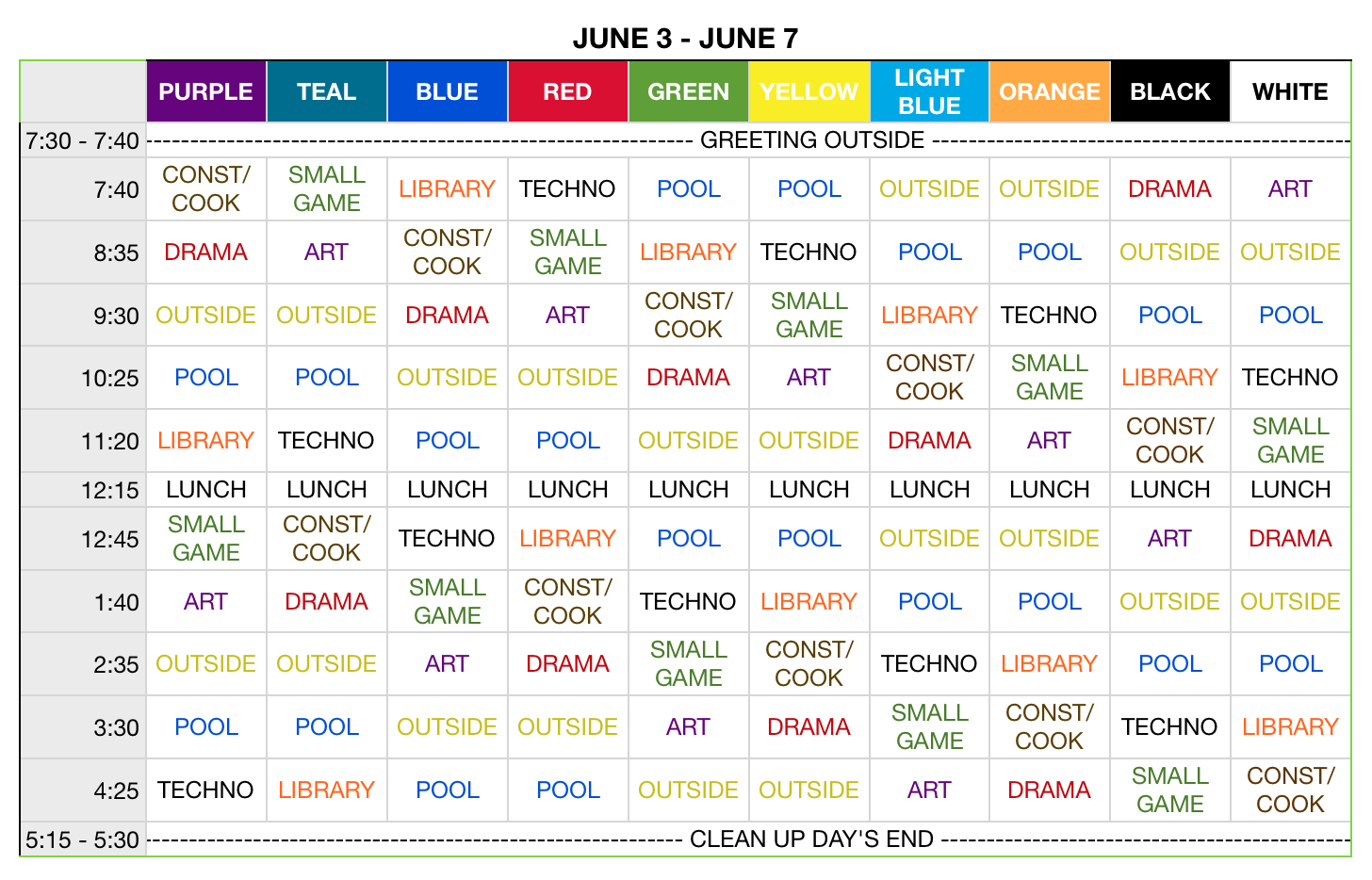 One time during the summer, each camper has the opportunity to stay overnight at Raintree with his color group and the campers in the complementary color group.  The cost is $50 per camper.  A link to an online registration form on will be posted on the Monday preceding each campout on the Camp Raintree web page. Campers come to camp with their campout gear and leave Saturday. Campers pitch their tents during the day, prepare the campfire, and cook their meal that evening. Following dinner the campers swim, go on nighttime treasure hunts and play camp games, but always end with songs, stories and snacks around the campfire.  Breakfast is served the next morning. Pick up is at 8:30 Saturday morning. Some of the campers' fondest memories of camp are built around the campout experience.  We hope your camper can join us!
Campout packing list: Sheet or sleeping bag, sleeping pad, pillow, change of clothes, pj's, toothbrush & paste, meds, ONE stuffed animal
Campout registration is due by noon on the campout date. Late registrations must come to the office and are subject to approval based on space availability.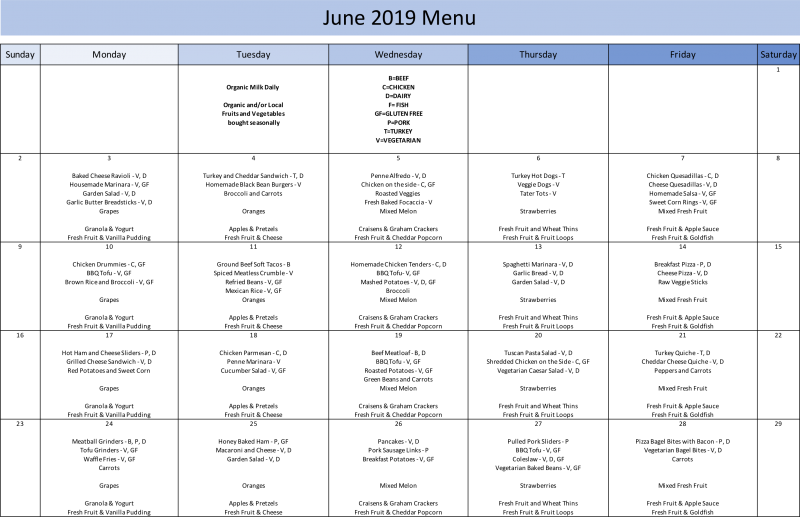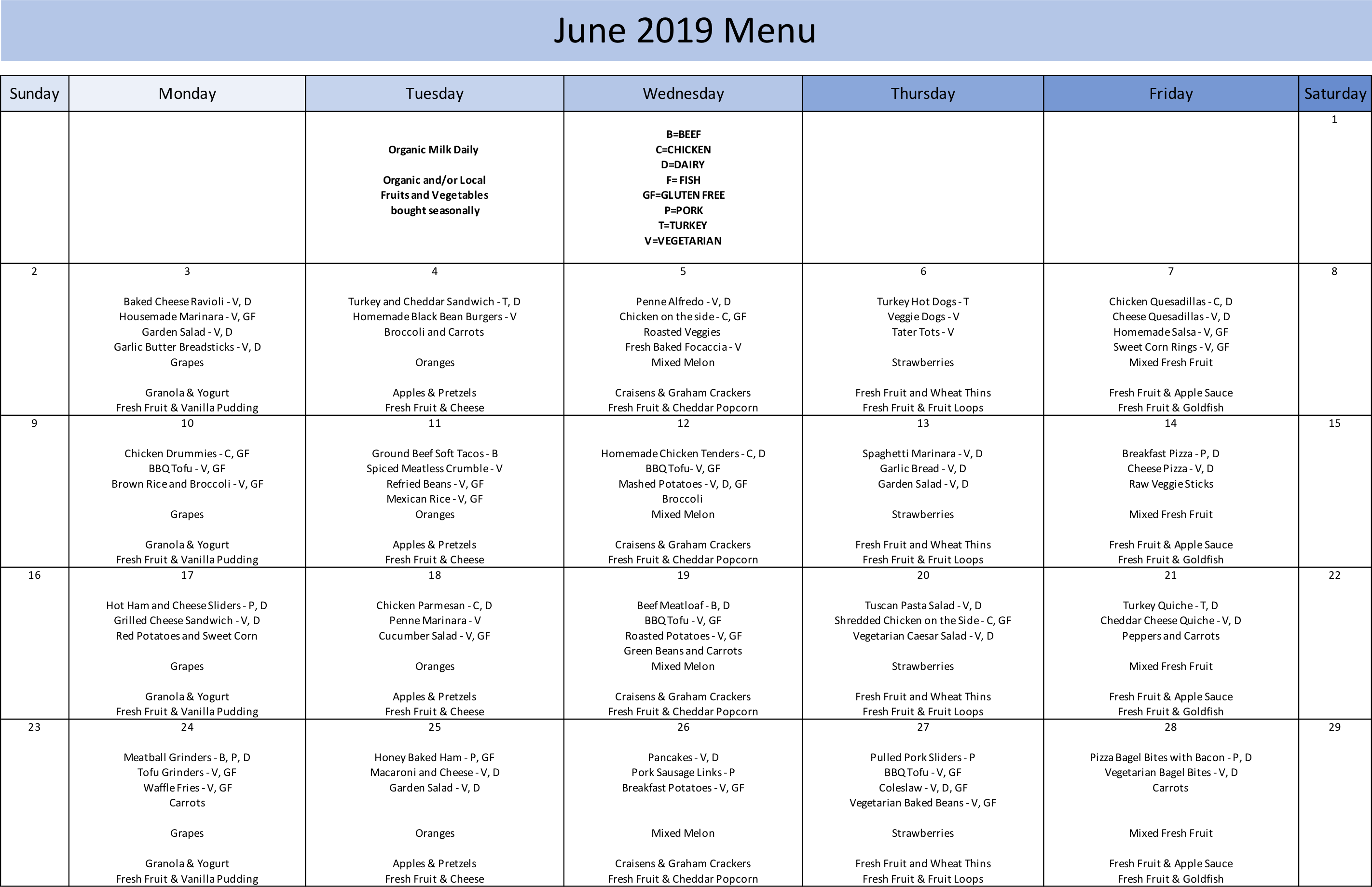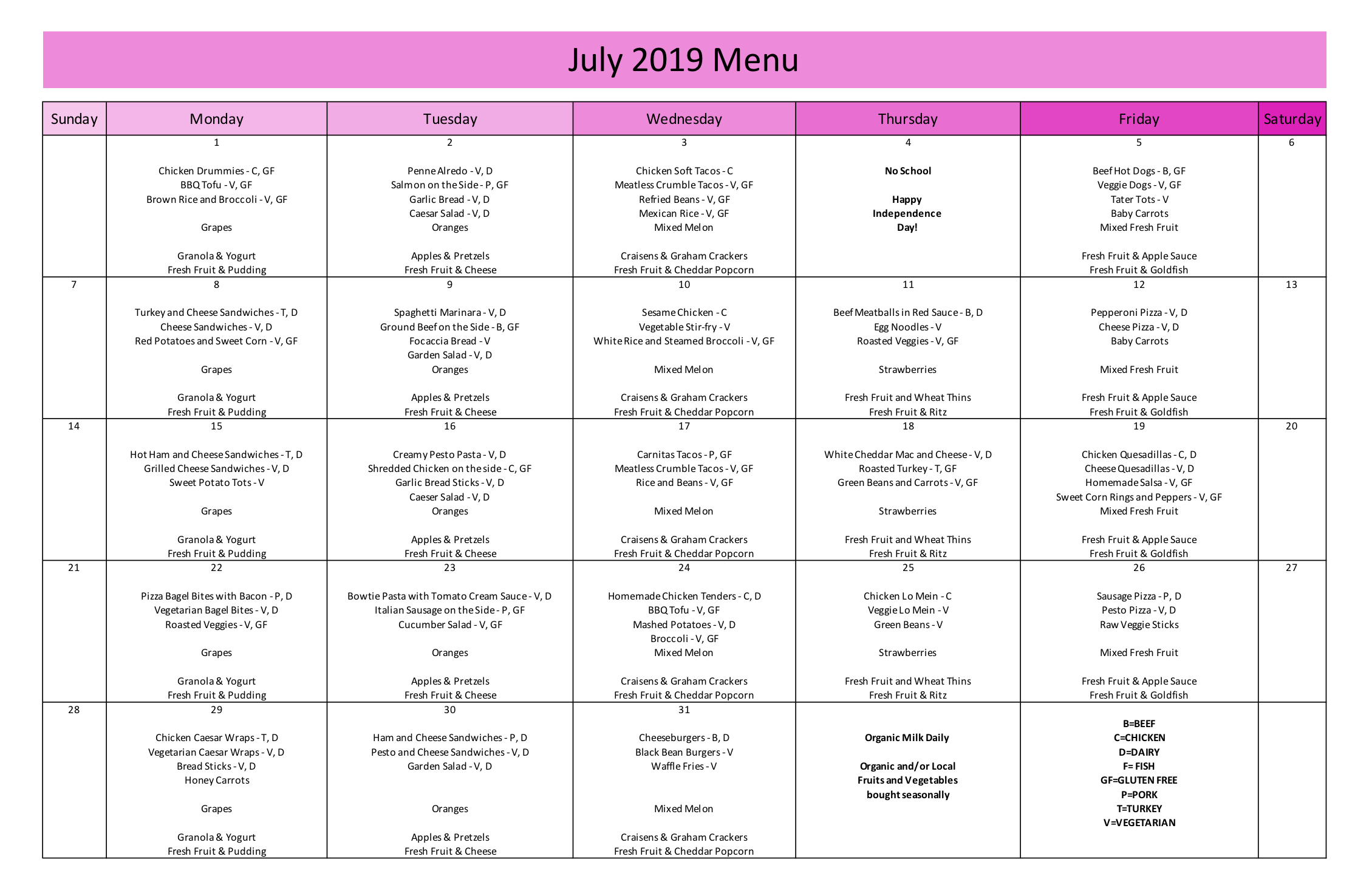 LEAVING A MESSAGE ABOUT MY CAMPER
HOW DO I LEAVE A MESSAGE about my CAMPER?
Call the office and press "2" for attendance (or "0" to talk with Kelli or Nikki).
Visit the office and speak with Kelli and Nikki.
Send an email to Raintree at kelli@raintreemontessori.org or attendance@raintreemontessori.org
DO NOT LEAVE A MESSAGE WITH A CAMP COUNSELOR AT DROP-OFF OR PICK-UP!
Think of the office as a funnel through which ALL messages flow!
WHEN ARE THE SPECIAL EVENTS THIS SUMMER?
Glad you asked! Below are the calendar events for the summer months. These events are also found on the "School Calendar" on our communication platform, raintree.hubbli.com. All events in orange are Camp Raintree events.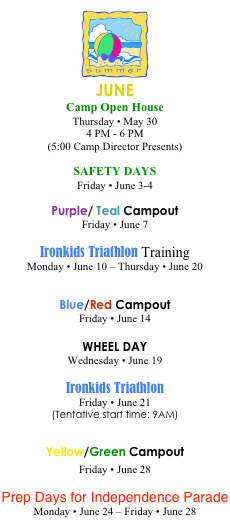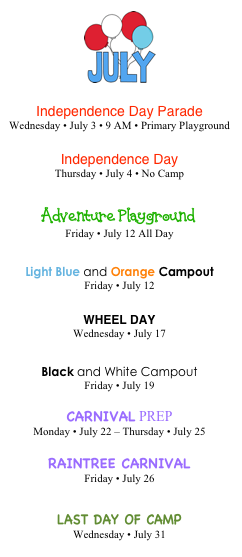 We take roll at each activity period.  When picking up your camper, always let the Counselor or Instructor know when your child is leaving for the day, even if it is at the regular pickup time, but especially if it is at a different time.  The same applies to arrivals.   You must connect with a human being at arrival and departure.  All Counselors and Instructors have walkie-talkies, so even if the first person you see is not your child's Counselor, that person can inform your child's Counselor they have arrived, or departed.
Please send your camper to Raintree in old clothes that are loose fitting and comfortable.

 

Our motto for almost 40 years has been, "The business of learning is often messy."

 

Your camper will be involved in a lot of outdoor activities that are messy and require running so please make sure she is dressed appropriately.

 

No flip-flops.

 

Shoes must have a strap on the back

.

 

The majority of our camp activities are outdoors and require your child's active participation.

Please remind your child to pack a healthy lunch.  No soda pop or candy, lots of fruits, veggies and healthy foods instead.  Remember to put a cold pack or a frozen juice box in the lunch bag to keep food items fresh.  Lunches are not refrigerated at Raintree, but are stored in camp rooms in baskets.   Another lunch option is to sign up for Raintree lunches.  In order to accommodate the campers who select this option, larger food orders are made so there are no refunds should a camper decide to bring his lunch.   If your child has special dietary needs, please considering sending lunch instead of choosing the Raintree lunch option. 

We also have special events throughout the summer including overnight campouts.  A Campout Registration Form will be available online in the Camp Raintree section of the website.  Simply complete the online form with your credit card information to register your camper for this fun activity.
Raintree will provide the materials necessary for all camp activities with the exception of sunscreen, or an occasional recycled item for art or drama.  Please DO NOT let your child bring ANYTHING ELSE to camp.  Cosmetics, backpacks, games, trading cards, video games, cell phones, skateboards, and all other paraphernalia must stay at home.   

We have special Wheel Days (see schedule at the end of this letter) so campers may bring their bikes, skateboards or scooters on those days.  Otherwise, please keep everything else at home.  On Wheel Days, campers must wear a helmet to ride a bike, and both a helmet and kneepads to ride a scooter or skateboard.  No exceptions.  We have Water Days, too, and campers may bring some type of squirting device if they want to participate.

Camp chores are part of the camp experience at Raintree.  "Leave no trace," is our motto.  Campers are expected to leave each activity area better than they found it whether they are inside in the Art Studio, or outside at Raintree Pond.  You may even see a camp group weeding and watering a specific area on the campus, or working in the garden.  This year more emphasis will be placed on garden-to-table food preparation.
Campers must wear closed-toe shoes with a strap in the back.

 

No flip-flops, platform shoes, or Crocs, please.

 

They do not allow campers to fully participate in outdoor activities which is the beauty of Camp Raintree, the opportunity to spend so much time in nature!

 

Please send your camper in tennis shoes, Keens, or other closed-toe shoes with a strap in the back.

   

Swim suit, towel, and googles must be brought to Raintree in a mesh bag. All items including the bag must be labeled with the camper's name.

Campers walk not run from activity to activity.

To protect from UV rays, campers wear hats outside.  In the summer, campers may wear hats inside, too.  We have also built shaded spots throughout the campus—over the archery area, the lunch patio/shuffle board/play area, climbing wall, and sandbox—to further protect our students from the harmful rays of the sun.

Campers wear sunscreen when participating in all outdoor activities.  DO NOT SEND AEROSAL OR SPRAY SUNSCREEN.  Please replenish our supply throughout the summer whenever you see us post a sign asking for "More Sunscreen!"

Campers should bring water bottles to keep hydrated.  We also have drinking fountains on the campus, and when the weather gets very hot, large thermoses are placed around the campus.

When arriving or leaving camp, a camper must let the Counselor or Instructor know especially if the arrival/departure time is different than their regular time.

We take roll every 55 minutes at each activity session.

When picking up one's swim gear at the pool, an adult must accompany a camper.

Campers must wear a life vest when fishing or boating at Raintree Pond.

We follow the Golden Rule at Camp Raintree:  We treat others the way we would like to be treatedSwim suit, towel, and goggles must be brought to Raintree in a mesh bag.  All items including the bag must be labelled with your child's name.
Campers are expected to care for the Camp Raintree environment, be respectful of the camp staff, follow the camp policies and rules, show kindness toward others, and use appropriate language.
We also know the busier we keep the campers, the less time they have to get into mischief.   Each camp activity room is equipped with a range of choices, not just one activity.  With so much to do, we expect the campers to engage and participate.  Every 55 minutes, the group moves to a new activity area with more activities to do allowing little time for misbehavior.
Even with all there is to do at Raintree, children sometimes misbehave.  Misbehavior includes, but is not limited to, profanity, intentional pushing, shoving, tripping, name calling, scratching, hitting or taunting.
If this happens, counselors are trained to employ techniques to extinguish the behavior.  We give campers, especially new ones, more time to familiarize themselves with Camp Raintree and our rules.  The most important thing our counselors can do is to bond with them, get to know them, enlist their help, and make them feel a part of the camp experience.  In this way, we often can minimize most behavior issues.    
What if a camper continues to misbehave?
In the event this happens, we employ many strategies to solve the problem ranging from going to another activity room, cooling off in another area of the playground, finding a job to do away from the group, or spending time with the counselor. If the matter is resolved, apologies are made, and all is well.  If a camper continues to misbehave, the counselor notifies the parent and an Incident Report is filled out, the original is given to the parent and a copy is filed in the Raintree office.   
If a camper continues to disrupt the group, compromises activities, disrespects a counselor, or disregards camp rules resulting in three Incident Reports, we reserve the right to dismiss the camper without refund. We do not tolerate emotional or physical abuse, the threat of abuse, or any kind of emotional or psychological intimidation. We strive to maintain a peaceful camp community so that every camper can have a fun camp experience.
Parents may park in the east parking lot and walk their children into the camp buildings, or drop off their camper by driving into the Drop-off Zone at the end of the sidewalk north of the swimming pool.  Please make sure your camper exits the car on the passenger side because other cars are passing on the driver side.  Campers should exit quickly.  The Drop-off Zone is NOT a place to leave your car and walk into the building.  Please DO NOT park along the toddler sidewalk to drop off.  This will cause a traffic jam and tempers to flare as cars back up into the access road.   Just remember to pull into the parking lot as far as possible to drop off your camper.  And please, never leave your car unattended in the Drop-off Zone.
HOW DO I FIND MY CAMPER if I arrive at an unscheduled time?
Each group carries a flag the color of their camp group.  When the campers change classes someone carries the flag at the head of the line and places it in a flag holder next to the camp room or area where the group is located.  If you arrive during the day between 9:00 and 11:00, or 1:00 and 4:30, you can find your camper by two methods:  look at the schedule board to see where your camper's color group is for that period, and/or find the flag.
Half-day Campers: At 12:15 a counselor escorts the half-day campers to Drop-off Zone for easy pickup, and parents who are delivering a camper at that time may pull into the Drop-off Zone where the counselor will greet the camper.
Half-day Campers: At 12:45 a counselor escorts the campers who are leaving at 12:45 to the Drop-off Zone and also greets those who are arriving at that time.
Until about 4:30, you may park in the east parking lot and walk to the camp activity areas to pick up your camper. Check the schedule or look for a flag!
At 5:15, campers will go to the roadway east of camp buildings for pickup in the same drive- through procedure as previously described.
To keep abreast of what is going on in camp, go to our website at www.raintreemontessori.org  and click on "Camp Raintree."  There you will find camp schedules, a copy of this letter, Campout Forms, and other information.  Camper artwork will be put in large boxes located on the patio of the North Elementary building or in the Game Room.  If a child has a minor accident, Ouch Forms will be given directly to the parent by the counselor at pick-up time.