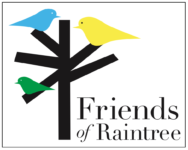 In partnership with the Douglas County Community Foundation's Giving for Good campaign, generous DCCF donors will provide a 50% MATCH on the first $5,000 in total donations to the Friends of Raintree! This not-for-profit organization supports Raintree and its community in many ways. Friends of Raintree's mission includes providing financial aid for families, making inclusion and special education services available on-site for students who need them, promoting entrepreneurship among students, and encouraging staff development.

This matching opportunity is available to Friends of Raintree from December 1-December 31. Make your donation here:
https://www.dccfoundation.org/fund/Friends-of-Raintree-Fund
Our Mission
"Not in the service of a political or social creed should the teacher work, but in the service of the complete human being, able to exercise in freedom a self-disciplined will and judgment, unperverted by prejudice and undistorted by fear."      – Maria Montessori
Raintree was founded in 1978 by a small group of dedicated people with a vision of a special place for all children. The vision was for a beautiful place where children could go about their task of self-construction, a place lovingly and intentionally prepared for children. The vision included finding and preparing adults for this most noble work, who were willing to humble themselves and, as Dr. Montessori had admonished, "have the faith to follow the child." Their qualities of being life-long learners, having an enduring sense of humor, holding a profound respect for children as well as their ability to function without enough sleep (at least in those early years) have helped to see the vision to fruition.
Raintree is a beautifully prepared environment physically, both indoors and out and is staffed with carefully and lovingly prepared adults who uphold the ideals of the Montessori philosophy. It is the love shared among the children and adults as well as the love that we all feel toward our prepared environment that is the foundation of the spirit of Raintree, inevitably felt by anyone who spends any time in the community that is our school. We have from the beginning been dedicated to providing working families with not only the finest in early childhood and elementary education, but with the security that they were able to go to work full in the knowledge that their children were getting the very best and most loving care available outside their immediate family.
~This text was written by Connie Black, one of Raintree's founding teachers.