The longer I work at Raintree, the more I wonder about the stories that collect around these fourteen acres of land.  The tales that are told with the most joy and humor are those of the animals.  Some are woven into the Raintree quilt, the earliest threads of the school story.  Some are retold at staff gatherings or parent/teacher conferences.  All are cherished memories that remind us of our responsibility to the small and delicate life around us.
The chickens are visited daily by children, toddler to erdkinder, each learning varying but connected lessons about their nature.  Soon, the goats-of-many-names will happily accept springtime treats of clover and dandelion from the children on the other side of the fence.  We plan gardens around the diet of rabbits, create routines for feeding snakes, and give zoological lessons from examples of specimens in our surroundings.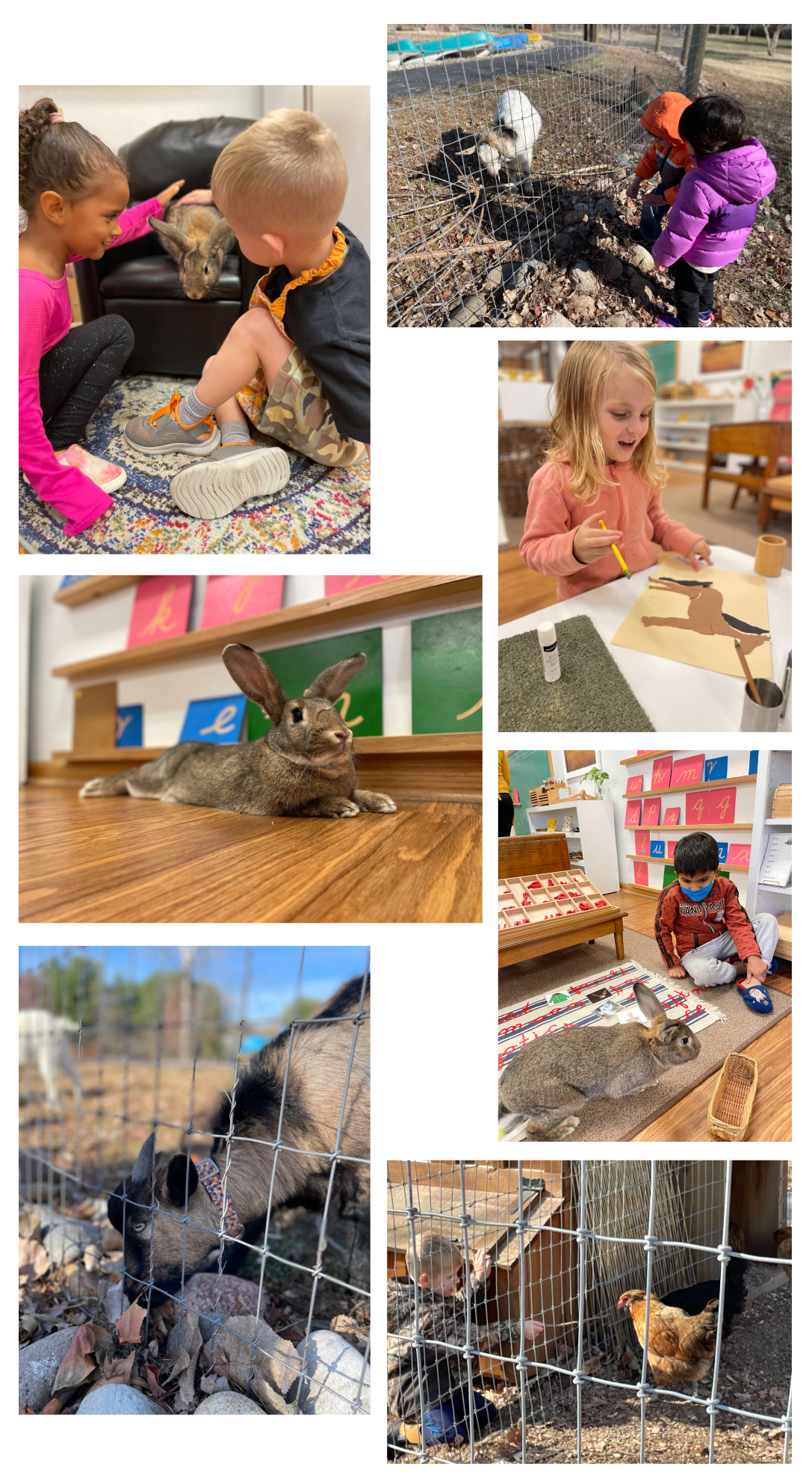 Marshmallow can be a cheeky bunny, creating new stories daily.  Once, he stole "b" from a child's Moveable Alphabet and ran into hiding.  "Bunnies biting 'b' behave badly!" He runs exploratory laps around other classrooms, begs for fresh-cut fruit, and especially enjoys chomping unattended pencils.  He upends yoga cards from a child balancing in tree pose.  He contentedly closes his eyes when children scratch between his ears and flops sleepily under the sandpaper letters.  Mostly, he gives great joy to current and visiting LFW alumni through his daily antics.
The animals of Raintree offer an opportunity to glimpse into your child's day, an easy way to delve into conversation. What animals did you see today?  What are their natural tendencies?  How are they cared for?  Inquiries can trigger conversations about responsibility, ideas for conservation of habitats, or animal classification.  They inspire stories and studies, collaboration and care.  I'll always be thankful for the many learning opportunities that the animals at Raintree offer.
Thank you, Primary Guide Callie Borszich, Lower Far West